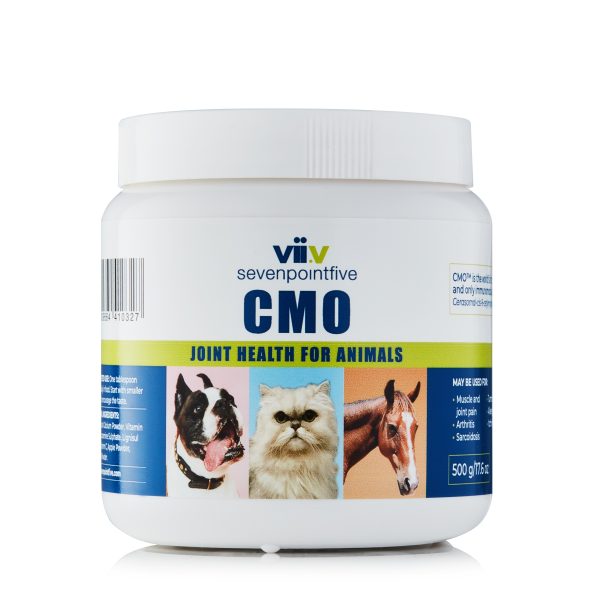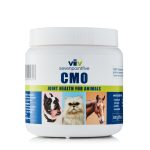 CMO Joint Health for Animals
R499.00
Animal CMO – Joint Health for pets
Description
Additional information
Reviews (0)
Description
For years we have had requests to create animal size supplements for our customers who wanted their pets to benefit as much as they did from the products, and eventually we yielded.
We are proud to announce that Animal CMO is the first Sevenpointfive pet product to be finally be introduced into the range.
What is in Sevenpointfive Animal CMO?
CMO – Cerasomal-cis-9-cetylmyristoleate. This amazing ingredient is the secret to success; CMO is an immuno-modulator, meaning that it does not suppress or enhance the immune system – even better, it regulates it. Inflammation, degenerative disease, joint destruction, arthritic conditions, and allergies are but a few conditions which are either controlled or eliminated by the use of CMO.
Lignisul MSM (Methylsulfonylmethane) – 99.9% pure MSM providing naturally occurring Sulfur which the body uses to maintain the structure of proteins in the body, help the formation of keratin, aid in the production of immunoglobin and catalyzing the chemical reactions which change food into energy.
Glucosamine Sulphate – The main function of glucosamine is to stimulate the manufacture of substances necessary for joint repair. As the body ages, it produces less glucosamine, predisposing all joints to injury and stiffness.
Coral Calcium Powder – Coral Calcium from Okinawa is an excellent source of calcium and magnesium along with a host of other naturally occurring minerals to rebuild bone structure, relieve pain and assist absorption.
Vitamin D3 – To absorb Calcium, Vitamin D is an essential nutrient.
Vitamin C – Builds the immune system, strengthens blood vessels and is a powerful antioxidant.
Baobab Powder – Contains many important nutrients but is especially high in vitamin C, vitamin B6, niacin, iron and potassium.
Apple Powder – Rich in malic acid, relieves muscle inflammation.
What makes Sevenpointfive Animal CMO different to other animal joint care products?
CMO stops joint destruction, not just the pain. There are no known side effects.
CMO affects virtually any ailment with chronic inflammatory or autoimmune components.
CMO helps correct autoimmune programs within memory T-Cells, rather than just suppressing or stimulating immune system activities. It does not inhibit the activities of the other types of T-cells responsible for combating harmful microbes and leaving the body vulnerable to attack (as prescription arthritis medications do)
CMO is a naturally derived substance (bovine fatty acids) that has received the highest safety level rating attainable in the States. It cannot be derived from vegetable or plant sources.
What has Sevenpointfive Animal CMO been used for?
Muscle and joint pain in horses, cats, dogs and other pets
Arthritis
Sarcoidosis
Tumours
Allergies
Itching
500g tub contains Animal CMO in powder form. Scoop included.
Additional information
| | |
| --- | --- |
| Weight | 0.320 kg |
| Dimensions | 10 × 10 × 11 cm |
| Conditions | Pet health |
---
Only logged in customers who have purchased this product may leave a review.