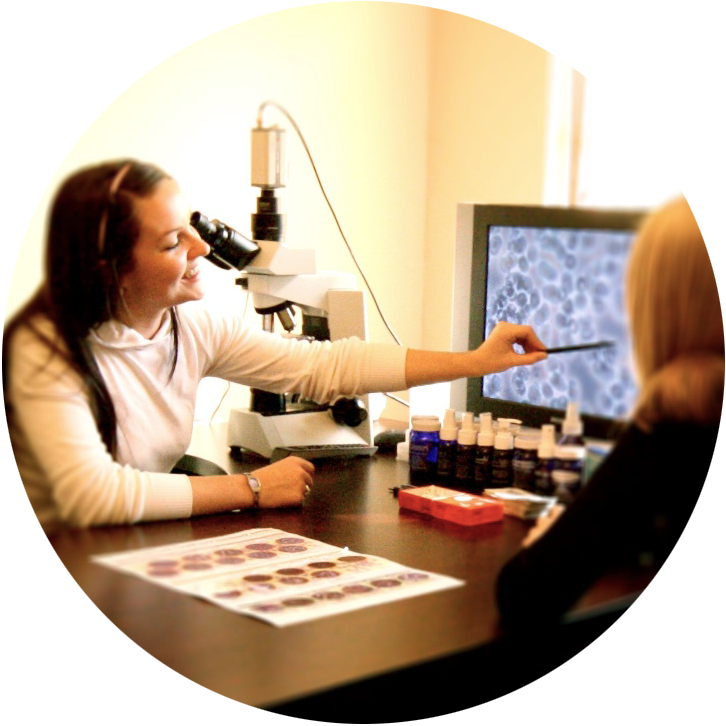 Sevenpointfive is a natural health and wellness company founded by Garth Kent, who suffered for eight years with Systemic Lupus Erythematosus.  He was on morphine and other scheduled drugs for the entire time, and eventually given three months to live.  He cured himself of Lupus by correcting his pH with ionic Coral Calcium and a program that cleansed, nourished and balanced his body. Read more…
Sevenpointfive is also the perfect alkaline pH for the body's interstitial fluids. When you're sick, your body will be acidic and not 7.5 alkaline. Sevenpointfive health consultants teach you the truth about pH, use live blood analysis to assess your needs and demonstrate that Sevenpointfive supplements actually work, allowing you to measure and track your progress to good health.
Live Blood Analysis was pioneered by Sevenpointfive in South Africa in 1997. It allows one to get an immediate insight into what is happening inside one's body. The Live Blood Analysis involves a pinprick of blood taken from your finger and placed on a microscope. We then look for imbalances, deficiencies and irregularities in your blood which provides clues as to how and why this may be affecting your health. Read more…
WE HAVE BEEN ASSISTING OTHERS FOR 25 YEARS. LET SEVENPOINTFIVE HELP YOU TOO.
SEVENPOINTFIVE CERTIFIED LIVE BLOOD ANALYSIS CONSULTANTS
SEVENPOINTFIVE PRODUCT RANGE
I cannot recommend Silvermax enough. It really is effective and has helped me so much. Forever thankful for this product!
I've been using Sevenpointfive for 11 years. It saved my life. I have Lupus SLE. So happy to be able to buy online. Thank you!!
I have a very happy, pain-free and energetic life. I no longer have moodiness and am no longer grumpy.
Hi I am truly amazed with the results I have seen with Mindset! I use it for my 6 year old son for concentration and it really makes a huge difference. Thank you!!
It's given me hope. I am almost completely pain free. I can think more clearly and am able to get out of bed in the morning and live my life.
10+…..I am sure this product cured me from my choc addiction. Also experience less mood swings. Wonderful!
Request More Information
Book an appointment with an experienced consultant or ask us a question